Boy or Girl? Find out with the SneakPeek Early Gender Test
SneakPeek is the only 99.1% accurate1 blood test that lets you know your baby's gender as early as 8 weeks into pregnancy.
SneakPeek Products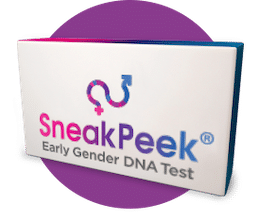 SneakPeek At-Home
Know your baby's gender at just 8 weeks into pregnancy with our 99.1% accurate at-home DNA test.1 Take the test and get your emailed results, all from the comfort of your own home.
Shop Now
SneakPeek Fetal Doppler
Check in on baby in between doctor visits with our portable and easy-to-use Fetal Doppler. Hear your baby at home or on the go, and easily share with others.
Shop Now
In case you were wondering:
A:
During pregnancy, cell-free fetal DNA is released by the placenta and can be found in mom's bloodstream. Using a small sample of mom's blood, SneakPeek tests for the presence of male DNA (Y-chromosomes). Y-chromosomes would only be present if mom is pregnant with a boy. If no Y-chromosomes are found, mom is carrying a girl. This method is known as noninvasive prenatal testing (NIPT) and is safe for both mom and baby. See the peer-reviewed published study that indicates this test is 99.1% accurate as early as 8 weeks into pregnancy in the International Journal of Pregnancy and Childbirth (Int J Pregn & Chi Birth. 2019; 5(4):135-137).
A:
With SneakPeek At-Home, you receive a test kit that provides everything you need to take the test, from the comfort of your home. Three lancets are included that you use to prick your finger to collect 7-10 drops of blood in a small test tube. The sample is then mailed back to SneakPeek Labs for analysis. This video shows the SneakPeek At-Home process from beginning to end.
SneakPeek Clinical lets you visit a participating location to have your blood drawn in a clinical setting. The clinic then sends your sample to SneakPeek Labs for analysis.
A:
To take SneakPeek, you must be at least 8 weeks into pregnancy, which can be calculated using either the first day of your last menstrual period, or baby's estimated due date. This pregnancy calculator makes it easy!
More Faqs
What mamas are saying: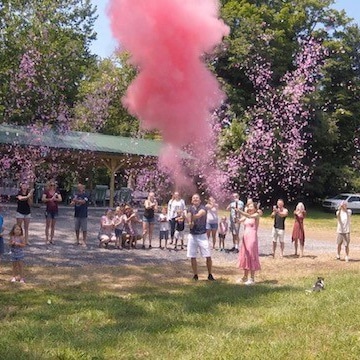 August 9, 2019
I used SneakPeek for my last pregnancy and recommended it for my sister! My spouse is active duty and we live away from home making it a little harder to be involved. It was so easy (living states away) for the results to be sent to me, for my sister, making this gender reveal so much fun and quite the surprise for mom, dad and their friends!
- Suzette Evans & Juliana Friend
More Stories