Published on April 10th, 2019
For both seasoned and new mothers alike, finding out about a pregnancy is often an incredibly beautiful, emotional time. Often, the initial stages of this discovery are filled with joy, excitement and happiness — coupled with many warranted questions, concerns and curiosities — surrounding the pregnancy process and the arrival of their own little one.
Naturally, expecting mothers tend to lean toward anything that can help them better understand and connect with their bundle of joy. Luckily, we now live in a day-and-age where resources on pregnancy are not only widely-available, but also packaged in a fun, refreshing way: mobile applications.
Mobile applications, commonly referred to as apps, are available on any smartphone for download and use. Some cost a small fee, while many others are free to use. Due to the high demand of pregnancy-related information, thousands of apps have been released aiming to assist expecting mothers throughout their pregnancy.
But with thousands of available apps for pregnant women, which one is best to use? After researching, we've narrowed it down to the 5 best options. If you're newly-pregnant, consider taking advantage of these useful, fun apps for expecting mothers below: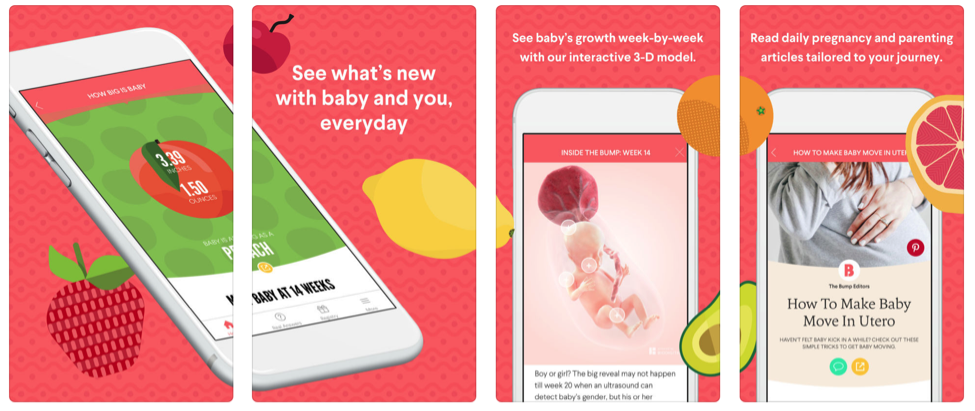 When it comes to top pregnancy apps for expecting mothers, The Bump is where it is at. From the creators of both The Knot and The Nest, The Bump is a well-known app geared toward first-time millennial parents who want easy access to information on fertility, the pregnancy process, birth and babies in general. Through stage-by-stage pregnancy updates, expert advice, breaking news, style inspiration and interactive tools, The Bump aims to empower new parents and parents-to-be.
On The Bump app, expecting mother's can find:
Expert articles on fertility, pregnancy and childbirth and baby.
Real Answers with The Bump editors, experts and peers on popular topics, including pregnancy symptoms and safety, labor and delivery and baby development and milestones.
Product research tools to start your baby registry.
Breaking news stories about the latest research, safety alerts and trending stories.
Interactive tools that will help you with everything from tracking ovulation to picking a name for baby.
The Bump app is free to download and is available across both Apple and Android app stores. With a 5-star rating, users seem to love what The Bump has to offer.
If you're newly-pregnant, you likely have a million questions regarding the health of yourself and your baby, the changes happening in your body and the development of your baby as the pregnancy process goes on. WebMD, an online publisher of news and information pertaining to human health and well-being, recognized the need for easy-to-access medical information for expecting mothers and created a solution: the WebMD Pregnancy app. The app offers doctor-approved tips and health information, week-by-week content tailored for every user and tools and features for expectant parents.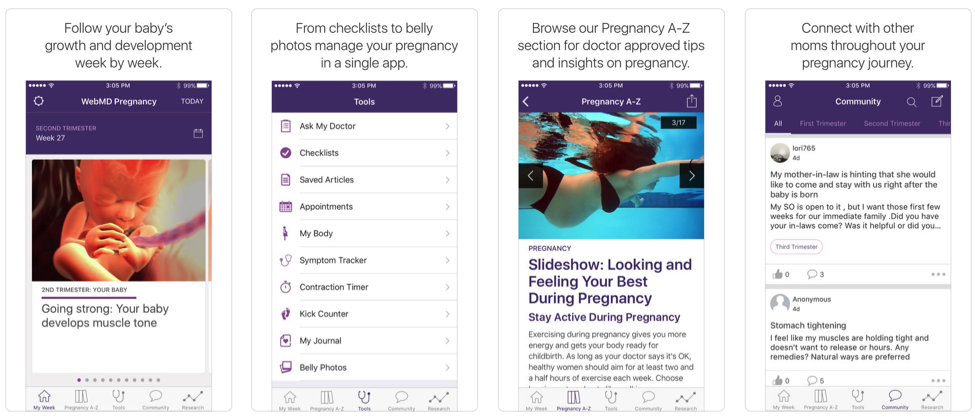 The WebMD Pregnancy app offers:
Week-by-Week Pregnancy Photos
The ability to view interactive visuals for a sneak peek at what's happening with your body and your baby each week.
Suggestions for questions to ask during your doctor visits, along with a place to store the answers you receive from your medical professional.
The ability to keep track of what baby gear to buy, what to take to the hospital during delivery, and more.
Access to create a belly photo album to document your pregnancy.
Interaction with the large, helpful WebMD Pregnancy community.
Get help, advice, and support from other expectant parents on WebMD's Pregnancy message boards.
The WebMD Pregnancy app is available for free on any app store. With a 4.5 rating, users seem to enjoy WebMD Pregnancy and the medical information it provides. Dive into a wealth of information about your pregnancy within a few minutes!
With the excitement of pregnancy and the arrival of a new family member, many expecting mothers want to document the process. Baby Story, an app created with these mothers in mind, is growing more and more popular. Baby Story is a design app, used to creatively document your growing belly and baby, your baby's first moments and every excitement and anticipation that comes along.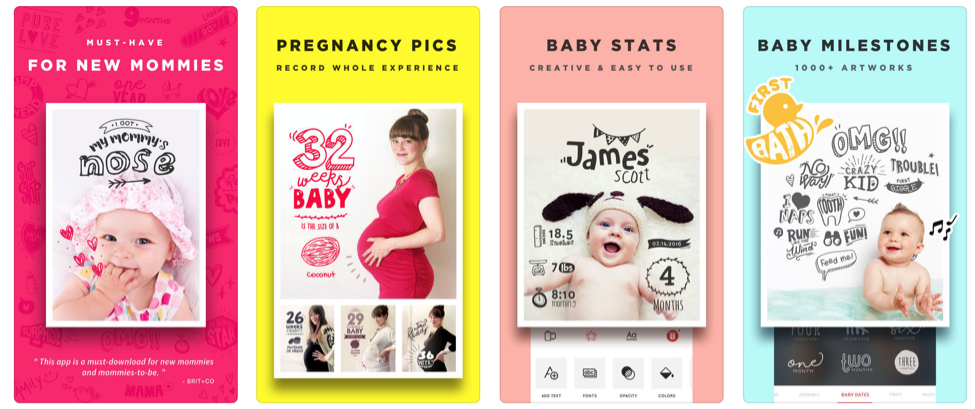 Tailored toward the mother who finds joy in documenting and creating, Baby Story provides users with professional filters, milestone artworks, different fonts and more to be used in creating the perfect design to share with others.
The free Baby Story app was featured as "Best New App" on the Apple App Store. What will you create with Baby Story?
Sprout, the company behind Sprout Fertility & Period Tracker and Sprout Baby, is also responsible for the creation of Sprout Pregnancy. With Sprout's slogan, "Great Apps for Great Parents" it is no surprise that Sprout Pregnancy is one of the most popular app out there for expecting mothers. The Sprout Pregnancy app offers users:
Comprehensive information on about you and your developing baby.
Award-winning fully interactive 3D models of fetal development.
Pregnancy tools, including a weight tracker, kick counter and contraction timer.
Information written by doctors and pregnant mothers-to-be.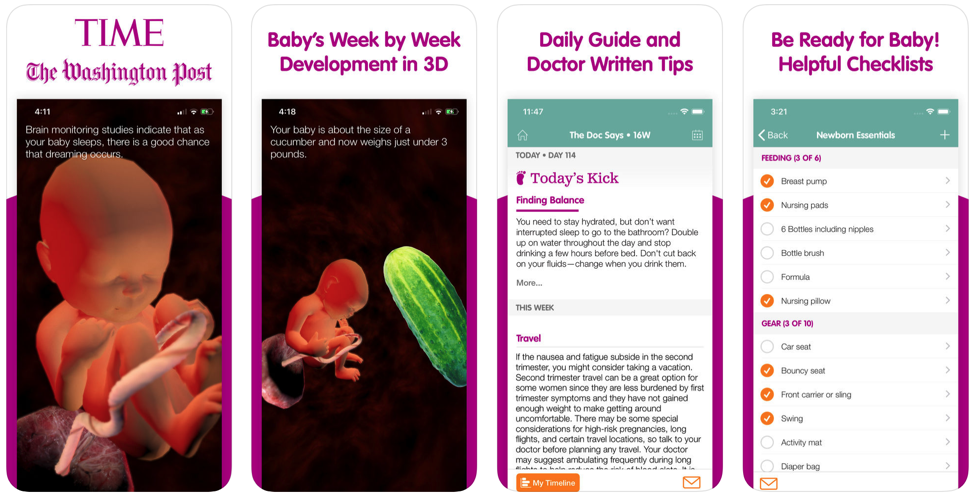 The Sprout Pregnancy app is free to download and is only available for use through Apple. It is an Apple 'Essential App for Parents' and is one of Time Magazine's Top 50 Apps of the Year. With praise like that, you have to try it out.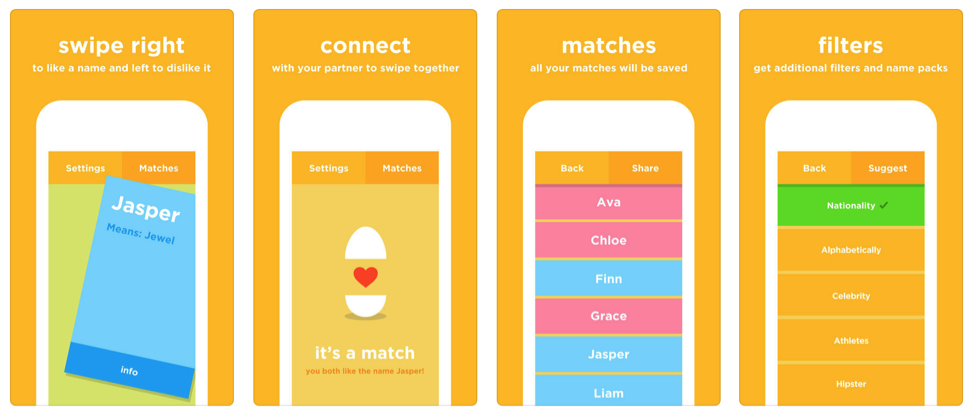 Now that you're pregnant, you might already have a name picked out, or maybe you are still contemplating the perfect name. Created to help parents choose the perfect name for their baby, the Babyname app allows parents to choose names together, in a fun and new way.
The app has a swipe right or left feature — much like dating apps such as Tinder or Bumble — that connect parents together to choose their baby's name. Each parent swipes through baby name options, choosing either left for no or right for yes. If both parents swipe yes or 'like' a name, it is a match. The name will be saved on the app for both parents to consider when finalizing their name choice.
The free Babyname app is available on Apple or Android. The app was featured in publications such as abcNEWS, BuzzFeed and The Huffington Post. What name will you come up with?
With so many choices, we know you'll love one or all of these pregnancy apps! Make sure to tell us what you think of them, in the comments, below.
All the logos, products, trademarks, services, and names used herein are the property of their respective companies and individuals.