Published on June 4th, 2021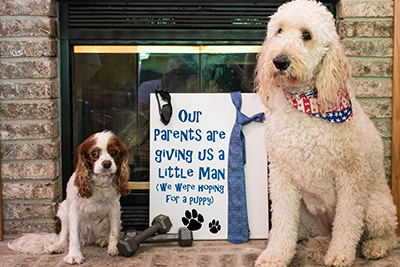 The timer went off. You took a peek at the stick and… holy cow, you're pregnant! You may feel exhilarated, nervous, and thankful. You might even feel like your heart is glowing with love and anticipation (or maybe that's just first-trimester heartburn). 
Before the usual pregnancy announcement to family, it's time to share it with your fellow baby-maker. 
Telling your partner that you're pregnant is a memory he'll never forget. In just a few moments, an old chapter ("Before I became a dad") ends, and a new chapter ("After I became a daddy") begins. You'll definitely want to savor and celebrate it. So how do you make a memorable pregnancy announcement to your husband or partner?
Things To Consider Before Telling Your Partner 
Before you hire a brass band to hide in the garage for your surprise baby announcement, it's time to give some thought on when to announce pregnancy and how your partner would want to hear the news Here are some facets to consider: 
How soon would he want to know? 
If your partner would rather know he's going to be a dad the moment the test comes back positive, you may not want to spend too much time planning an elaborate reveal. This might be the case if you've been trying for a while, if he's really excited, or if he isn't a fan of secrets. But if he wouldn't mind waiting a day or two for a thoughtful announcement, you might be able to use that time to plan a fun surprise. 
If your partner would rather have the news be shared between just the two of you, you can strike "flash mob" off your list of ideas.
How does he feel about surprises? 
Some partners love surprises. But if your last surprise efforts fell a little flat with your partner, taking a gentler approach to breaking the news might be the better way to go (so definitely no surprise brass band).
Does he appreciate mementos? 
If you and your partner love perusing your wedding album or proposal photos, it may pay off to ask a close friend (whose ability to keep secrets may rival a CIA agent's) to videotape or photograph your partner's reaction.
What will you do afterward? 
For an extra thoughtful touch, you can make plans for after the big reveal. Your partner may want to take a moment to reflect on your lives and get excited for what's to come. Or your partner may want to go out to celebrate at your favorite places (maybe even the ones that will be difficult to visit when the two of you become the three of you). 
Once you've answered these questions for yourself, your surprise pregnancy announcement will start to take shape.
Ideas for Your Pregnancy Announcement to Your Husband
Now that you have a general idea for how you want your pregnancy reveal to look and feel, whether that's private and personal or big and celebratory, here are some pregnancy announcement ideas to inspire you:
#1 Worth a Thousand Words 
If you want a cute pregnancy announcement, show your partner you're about to turn the page in your love story with a photo album surprise.  
Purchase a photo album with

clear slots for pictures (you can get these at most major stores like CVS, Target, or Walmart.)

Print out your favorite photos of each other throughout your relationship. You can even include little mementos like ticket stubs for movies, receipts from special dates, or other little tokens you may have held onto throughout the years.

On the last page, include a photo of your positive pregnancy test, a baby onesie, or a tiny ball cap or jersey from your partner's favorite team.

Surprise your partner with the photo album and flip through it together. Make sure he gets to the last page. He'll appreciate the thoughtful gift

and

the sweet surprise ending. 
You can also do this with your wedding album by sneaking in that pregnancy photo right at the end. You can ask your partner to go through the book with you as a fun way to spend an evening. 
#2 The Gift of Fatherhood 
If your partner appreciates a small gift now and again, take this opportunity to announce your pregnancy in a creative way with an engraved token he'll treasure. Have a small gift engraved or printed with the words "Father," "Dad," or even your expected due date. Those gifts can include:
A watch 

A swiss army knife

A t-shirt

A beer stein or coffee mug

A water bottle

A hat
For an even more fun surprise, you can give this gift by hiding it somewhere in your home and playing "Hot and Cold" or putting together a scavenger hunt to lead him to the gift. 
#3 The Pun Bun 
If you and your partner are playful pun-fanatics, you may love these silly ideas that play on the old adage "bun in the oven:"
Cooking up something sweet 
When you're alone in the kitchen, place a bun (hamburger bun, hot dog bun, morning bun, it's up to you) in the oven. Turn the oven on the lowest setting, just enough to toast the bread and encourage a delicious smell to infuse the kitchen. Then, scurry over to the couch/kitchen table, and ask your husband to check the oven. 
When he opens it up, he may say, "There's a bun in the oven." Then you can reply with, "And there's one in mine too!" It may take a moment for him to put the pieces together, but once he does, the look on his face will be priceless.
If you have a favorite bakery that does delicious sweet buns nearby, or if you're a baker yourself, cook up a batch of buns. As your partner takes a bite, you can say, "I made these buns for a special occasion." When he asks what the occasion is, you can say, "There's a bun in my oven."
#4 A Wordy Surprise 
If you and your partner enjoy word games, play up this part of your relationship by breaking the pregnancy news in a word game: 
You may have to cheat at this game a little, but we promise, it'll be worth it. Keep a few extra tiles up your sleeve and spell out "IMPREGNANT" when your partner least expects it. Bonus points for you if he argues about if it's a real word (but maybe clue him in before he pulls up his phone's dictionary app).
If you and your partner love crosswords, give him a puzzle he'll never forget. Use online crossword puzzle generators to build your own crossword. Let the clues be moments from your relationship or things only he knows about the two of you, like where you had your first date or a favorite movie you both enjoy. Then, let the last clue lead up to spelling "IMPREGNANT."
All you'll need for this game is an easel, some paper, and a marker. When it's your turn to draw, sketch out your message and watch your partner guess and grin. 
This cute way of announcing pregnancy news can be used for any kind of game, from Taboo to Settlers of Catan. You can make your own playing cards or tiles with hidden messages and sneak them into the game, so your partner uncovers the message in a fun and unexpected way. 
#5 The Juno 
If you and your partner are fans of Elliot Page's seminal work Juno (and enjoy a silly joke), stuff the freezer with Eggo Waffles. One morning, ask your partner to make you a waffle. When he sees the scores of yellow boxes in your freezer he may ask something like, "What's with the waffles?" 
Then, you can quote Rainn Wilson's hilarious line from the movie: "Must be because my eggo is preggo!" and you can both enjoy a pile of celebratory waffles.
#6 Special Delivery 
Pizza goes hand-in-hand with good news. Try this announcement style for an extra special delivery.
Stop by your favorite pizza place to pick up one pizza. Ask for an empty pizza box.

Before getting into the house, open the empty box and write the following on the inside of the lid: "Baby [Your Last Name] Will Be Delivered [Your Due Date]." Place your positive pregnancy test in the box.

Put the announcement box on top of the

real

pizza box and have your partner open it.

Celebrate the news with amazing pizza and a few snapshots of your memorable delivery. 
#7 Our New Favorite Songs 
Perfect for music lovers, creating a playlist lets the music break the news beautifully to your partner. Compile a playlist of songs with "Baby" in the title. Then, title the playlist "I Have Something To Tell You" and ask your partner to grab your phone and play it while you sneakily fix up a few glasses of celebratory cider. A quick glance through the lineup will have both you and your partner dancing in excitement. 
#8 Say it With Your Fur Baby 
Enlist your pet to help you tell your husband that you're about to add another baby to the family (one that's not quite so fuzzy).
Stop by your go-to pet supply store and have a new ID tag made for your pet's collar. Label it "Future Big Sister/Brother/Guard Dog to Baby [Last Name]" Then ask your partner to double check the details on the new tag. He might do a double take, but soon he'll have you and your pet swept up in a big hug.
If you can't resist an opportunity to dress up your pet, buy a pet shirt with "Big Sister/Brother" or "Future Guard Dog of Baby [Your Last Name]." Dress up your pet in another room, have them stay, then call them into the room where you and your partner are. Your excited pet will be a delightful way to deliver the news.  
Can't Wait for the Gender Reveal? SneakPeek Can Give You Answers Even Sooner
Pregnancy Announcement? Check. Gender reveal announcement? That might be sooner than you think with the SneakPeek Early Gender DNA Test. SneakPeek's Early Gender DNA Test lets parents know the gender of their baby as early as eight weeks into pregnancy with clinically- proven 99.9% accuracy. Just collect your sample, send it SneakPeek Labs in our prepaid packaging, and you'll have your answers either the same day your sample is received with the FastTrack option or the next day! 
If planning your pregnancy announcement only made you more excited for your baby's gender announcement, start planning earlier than ever with SneakPeek!
Sources: 
Discovery Education. Criss-Cross Puzzle Maker. https://puzzlemaker.discoveryeducation.com/criss-cross
The Bump. Cute Ways to Tell Your Partner You're Pregnant. https://www.thebump.com/a/ways-to-tell-your-partner-youre-pregnant
Related Posts
Follow Us
SneakPeek aims to provide the most accurate and up-to-date information to help our readers make informed decisions regarding their health before, during, and after pregnancy. This article was written based upon trusted scientific research studies and/or articles. Credible information sources for this article are cited and hyperlinked.