Published on December 1st, 2018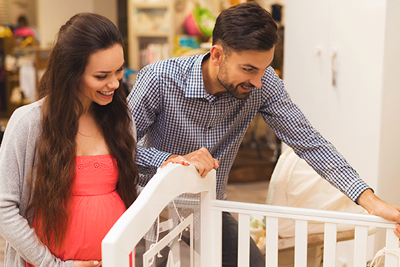 If there's one thing that defines mamas, it's their commitment to focusing on what matters most.  When it comes to product choices, that requires some thoughtful decisions and poses an important question: how do you decide between "nice-to-haves" from the "must-haves"? We've done some of the sifting for you to come up with the top 7 products that will help make motherhood easier, so you can focus on the things that really matter both before and after the baby arrives. Read on for our list of must haves for new moms!
1. Detachable Co-sleeper
You've almost certainly heard by now (if you haven't already experienced it yourself): one of the of the biggest challenges of having a newborn is around-the-clock feeding and soothing during the first months. In the name of sanity, it's tempting to sleep with your baby — but most doctors recommend against it for safety reasons.
Enter your new best friend, one of our top must haves for a new baby: a Detachable Co-Sleeper, or Side Sleeping Crib.  The perfect middle ground, they're safe, convenient, and allow baby to be tucked safely next to you and your bed, but in his or her own space. The stylish and functional Chicco Side Sleeping Crib is an all-around Amazon favorite and has many desirable features: a low-slung side for easier access to your little one, a breathable mesh back and adjustable height. Hint: Assemble the side sleeper a little lower than your bed — it'll make lifting the baby easier.
2. Fetal Doppler
While you're pregnant, the time between doctor's visits can feel like an eternity. With the Sneak Peek fetal doppler, you don't have to wait to check-in: tune in to hear your baby's heartbeat, kicks, hiccups, and more anytime, anywhere. It's portable, convenient, and super easy to use. You can even hook it up to FaceTime to share the baby's movements and sounds in real-time.
3. A Newborn Lounger
At first glance, they may look like glorified pillows. Don't underestimate their potential for making life easier. It comes in handy throughout the day: when you need to lay baby down, give your arms a rest, pick up a bag of groceries, wipe up a mess, or anything else, the lounger will quickly become one of your closest companions. It's crafted to support the baby's natural shape, with head support and cozy softness that is soothing to a newborn baby. Many mamas also find it useful as a nursing pillow during feeding.
You can snag a newborn lounger at Target for under $30. Oh, and did we mention they're machine washable?
4. An All-in-One Infant Seat
We've all seen it. That poor parent in the parking lot, fighting a losing battle with the car seat that won't snap into the stroller (or the stroller that won't collapse into a car seat.) You swore it would never be you. And now it doesn't have to be to be with this must-have baby gear.
The award-winning Doona Infant Car Seat is easier to convert and use than ever. And it isn't just good for the parent: it was designed by engineers and medical experts to provide ergonomic support for your baby, too. It's also one of the safest car seats on the market today with special technology created to ensure protection of the baby's head.
5. Dignified Diaper Bag
Discrete diaper totes and backpacks: they're 100% a thing, and they're 100% worth investing in. Our favorite line-up includes everything from high-end looking backpacks to sleek shoulder bags, but all of them make sure you're fully equipped for whatever baby items you might need on the go. Our current favorite is the Ankommling BackPack, with dry/wet sections, three secure bottle holders, a diaper pouch and even a convenient easy-access tissue pocket for a sudden runny nose or sticky fingers. The best part? You'd never know it was a diaper bag from the outside— diapers and wipes, baby bottles, burp cloths, and nipple cream can all be stored discreetly and with style. Doubling up as a stylish accessory, this is one of the must have newborn items you can't go without.
6. Smart Tech Sleep Monitor
Before your baby is born, the SneakPeek fetal doppler lets you check in with him or her at any moment. But what about after birth? The Owlet SmartSock sleep monitor allows you to tune into the baby's sleep without disturbing any zzz's. Just download the app, slip the cozy little sock on before you put your baby to bed, and view real-time data on your phone about heart rate, oxygen levels, and sleep patterns using clinically-proven pulse oximetry. Knowing your child is safe and sound at night will make sleeping during the baby's first year a much better experience.
7. Lactation Massager
For many mamas, nursing remains one of their top concerns, especially if they're heading back to work after their baby's arrival. The LaVie's Warming Lactation Massager can help immensely with consistent breastfeeding or pumping, improving milk flow, relieving clogged milk ducts, and reducing discomfort and soreness. Whether used in conjunction with a breast pump or just during normal feeding, the lactation massager makes the ordeal much easier on mama. 
Check out these newborn must haves to make sure they fit your needs– and if they do, add them to your baby registry checklist so they'll be ready to serve you best when the baby arrives.
–All the logos, products, trademarks, services, and names used herein are the property of their respective companies and individuals.