Published on December 22nd, 2019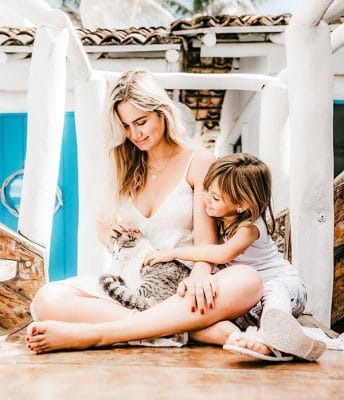 Congratulations! You've found a modicum of certainty. You're pregnant, you're going to have a baby, and you know for certain what the baby's gender is. Now you're starting to think about what to do after you have the baby.
It can be extremely tough to decide whether to stay at home with your child or children, or to work outside of the home. Factors like family income and daycare costs and options can make this decision that much more challenging.
How Many Stay-at-Home Moms Are There?
The Pew Research Center found that the percentage of stay-at-home moms (SAHM) has increased throughout the decades. The number of SAHMs was at a low point of 23% around the year 2000, and stay at home parents, in general, stood at a low 15% of the U.S. parent population.
It wasn't until 2010 with the hit of the Great Recession when rates of stay-at-home parents increased to 20% due to the fact that parents would stay home with their children because they were unable to find work.
Some mothers choose to work throughout their pregnancy and return to work after the birth of their newborn. However, this decreases the amount of time that the new mother is able to spend with her baby. Some companies offer maternity leave, but this only lasts for a period of time (with the length of leave depending on the company). In the United States, this leave often doesn't come with pay, which can put pressure on the mother to return to work as soon as possible.
What Are the Pros and Benefits of Staying at Home?
You want to raise a happy baby, and there are a variety of ways to do so. For some moms, the best way to influence their child's development is by staying home with them. The children aren't the only ones that can benefit from this arrangement—there are plenty of benefits to being a stay-at-home mom, including:
More Quality Time with the Kids: When you're home with your kids, you won't miss the major milestones, such as their first steps or their first word.
Free of Work Stress: When you don't have any deadlines to meet, customers insisting they're right, or hoping your time off requests get accepted, you may find that you're a bit more stress-free.
Meet Other SAHMs: Your baby will quickly become your new best friend, but it is still important to have a close-knit adult social circle. When you're a SAHM, you have the opportunity to turn to social networking to see what groups may be out there for mothers just like you. You'll quickly bond over similar lifestyles, and can even swap tips and tricks about staying home all day with your child.
Gives a Sense of Routine: Staying at home with your children allows you to make sure everything is getting done the way you like it, and in a timely manner.
What if I Can't Afford to Stay at Home?
If quitting work entirely isn't an option, there are plenty of jobs for mothers who want to work from home.
Jobs for Stay at Home Moms
Financial Help for Single Moms
If you find yourself in a position where money is tight for you and your family, there are resources available that you might be eligible for.
How Do I Find a Work-Life Balance?
Whether you decide to stay at home or go back to work, it is important to maintain a proper work-life balance. Yoga classes are a great way to relieve stress and meet other mothers who might be in similar positions. You can also maintain a healthy work-life relationship by:
At Work:
Create Achievable Goals Each Day: This helps give you a regular sense of accomplishment.
Manage Your Time: Divide larger tasks into smaller ones, and you must complete one task in order to move on to the next. Reward yourself by taking a five-minute break in between each task.
Communicate: Communicating honestly with your coworkers and managers if you're struggling is a great way to tap your internal resources. Often, when you do this, someone will have advice as to how you can address the challenges you're facing.
At Home:
Unplug: Being on your phone 24/7 can create unnecessary chaos in your mind. Taking a break from technology can be a great way to clear your thoughts.
Leave Your Work Problems at Work: Worrying about work when you're off the clock is something that may happen. It is important to keep your work and home life separate.
Don't Overbook: When you're in a financial bind, you may feel obligated to pick up on extra hours or tasks for that extra dollar. When you overbook your schedule, you are also overbooking your mental workload. Know your limits and only work extra hours if you think you're capable of taking on the tasks both mentally and physically.
There is no right or wrong choice when it comes to deciding whether or not you will stay home or return to work. Prior to having your baby, make sure to discuss your options with your partner, your employer, and have an honest discussion with yourself. Making this decision before your due date will help save you unnecessary stress and concern.