Published on May 11th, 2018 and Updated on March 18th, 2021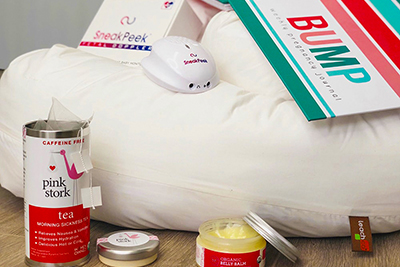 Expecting parents, look no further! Make your pregnancy comfortable and secure with these must have early pregnancy items!
Pregnancy can be filled with so many emotions and unanswered questions – especially if you are a new mom! After the initial excitement and you've bought all the books off the shelf and exhausted every baby name, there comes a time when you have to focus on the most important thing here. You and your baby's health. Fortunately, today's advanced technology and new innovative pregnancy products can do everything for parents from listen to their baby's heartbeat at home or conquer restless pregnancy sleep.
---
5 Products Every Expecting Mother (and Father) NEEDS
Take a look at how these products promote a healthy pregnancy and help you build that special bond with your new baby boy or girl.
#1 – LeachCo Maternity Body Pillow
Pregnancy is a beautiful journey but also comes with its share of common challenges. One of the bigger complaints among expecting mothers is that they just can't get comfortable. Leachco's maternity body pillows is the cure for this! We're in LOVE with their body pillows.
Leachco provides over 20 different maternity body pillow designs, ranging from the Preggie® Chic XL, which helps support weak muscles and provides comfort for the knees while sleeping on your side, to the Belly Bumper, which provides support to both your back and expanding belly during sleep or relaxation.
Check out Leachco's body pillows ($27 – $87) here: https://leachco.com/collections/comfort-pillows/body-pillows
#2 – Pink Stork Morning Sickness Tea
Pregnancy isn't always the most glamorous of experiences. Despite the joy associated with bringing a new life into the world, there are some things you could probably do without (i.e., morning sickness!).
Morning Sickness Tea by Pink Stork is a must have during pregnancy. This herbal tea helps soothe the stomach, ease digestion, and provide relief from nausea and vomiting. The tea's main effects are associated with its high ginger content, used to combat nausea for a millenia. Keep in mind that this tea contains caffeine, making it the perfect pick-me-up first thing in the morning.
Find Pink Stork's Morning Sickness Tea ($11.99) here: https://pinkstork.com/shop/pink-stork-tea-30-cups/
#3 – Honest Company Organic Belly Balm
Stretch marks will meet their match with the Honest Company's Organic Belly Balm, made with organic cocoa butter, organic cupuacu butter, olive oil, jojoba oil, and tamanu oil. These oils, which are rich in nourishing omega-5 fatty acids, soothe and nourish your skin as well as lock in much-needed moisture necessary for smooth-looking skin after delivery.
Stretch marks are a natural progression during pregnancy – and can be prevented easily by moisturizing with soothing oils. Adding Organic Belly Balm to your daily routine helps reduce stretch marks and keeps skin supple up to and even after delivery.
#4 – Polka Dot Print Shop Bump Book
Pregnancies bring on an immense amount of beautiful moments and experiences that fly by. Ensure these memories last a lifetime by documenting your pregnancy milestones with the Polka Dot Print Shop's Bump Book™.
The perfect-sized wire-bound Bump Book by Polka Dot features full-color pages printed on quality cardstock, allows you to add bi-weekly journal and photo entries to document all the details of your pregnancy. Create a long-term "scrapbook" (aka, "bump" book) that will ensure you capture the memories of your pregnancy. Prompts like "Dear Baby," "Third Trimester Wrap Up," and "Labor + Delivery," will help journaling come easy.
Get your personalized or non-personalized Baby Bump book ($45) today: https://polkadotprintshop.com/collections/bump-book
#5 – SneakPeek Fetal Doppler
A baby heartbeat monitor can give you access to the most exciting moment of your pregnancy, but many parents only experience this moment at their ultrasound check-up.
The FDA-cleared SneakPeek Fetal Doppler allows you to listen to and even record your developing baby's heartbeat anytime, anywhere. Additionally, you can also hear the movements and hiccups your baby makes in the womb. This product is a must for continuing the bonding process early with your baby by being able to check in anytime.
Order the SneakPeek Heartbeat Baby Monitor ($49) here: https://sneakpeektest.com/fetal-doppler/
All the logos, products, trademarks, services, and names used herein are the property of their respective companies and individuals.