Published on January 12th, 2021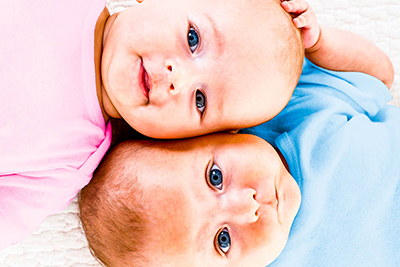 In landmark research involving over 1,000 pregnant women, and our largest clinical study to date, SneakPeek Early Gender DNA Test was found to be 99.9% accurate.
Prior to modern methods of gender prediction like Sneakpeek's early gender determination test, the ultrasound was the only way a pregnant woman could determine the gender of her unborn baby. Now, early gender test methods are available to moms around the world, but many people still wonder about gender test accuracy. So, how accurate is the Sneakpeek early gender test?
How the Study Was Run
Between October through December 2019, venipuncture blood samples were collected from women who were between 7-37 weeks into pregnancy, with the median gestational age being 10 weeks. The SneakPeek Early Gender DNA test was run to determine and provide the fetal sex of the babies. When the babies were born, SneakPeek surveyed the participants to learn if the birth gender of the baby matched the test result that SneakPeek provided. This screening method ensured that the most accurate method of determining baby's true sex was used – the baby's sex at birth.
The Results
Of the 1,029 samples, SneakPeek test results matched the baby's birth gender with 99.9% accuracy. Boys were correctly identified in 505 of 506 samples from moms who gave birth to baby boys. Girls were correctly identified in all 523 samples from moms who gave birth to baby girls. There were no cases of male DNA contamination in this study (i.e. no false positives).
While women who were 7 weeks into pregnancy were included in the gender test accuracy study, we recommend taking the test at 8 weeks into pregnancy.
Sneakpeek's previous 2019 study concluded our gender determination test demonstrated 99.1% effectiveness, which means that predicting baby's gender with Sneakpeek is more accurate than ever. Moreover, Sneakpeek enables parents to accurately learn baby's gender weeks earlier than the typical non-invasive prenatal test (NIPT) and months earlier than the standard 20-week ultrasound.
Why Sneakpeek
Compared to other options, the Sneakpeek gender prediction test is more affordable and accurate. Through a simple at home blood sample, you can learn gender more quickly than:
Urine tests: Unlike a urine pregnancy test, urine gender tests have no scientific basis and have not proven an accurate form of determining baby's sex.
Non-invasive prenatal tests (NIPTs): This prenatal test is required to be ordered through a physician and only covered by insurance for high-risk pregnancies, NIPTs can cost as much as $1,000 out of pocket and are typically conducted between 10-12 weeks into pregnancy.
Ultrasound: While doctor-ordered ultrasound scans are usually covered by insurance, anatomy scans that identify fetal sex are rarely performed before 18-20 weeks into pregnancy.
The Independent, Expert Review
Because we believe in robust clinical studies that hold up under the review of impartial experts, we submitted this data for publication in a peer-reviewed medical journal. We're proud to announce it was published by the International Journal of Pregnancy & Child Birth on Dec. 29, 2020. See the full study here! SneakPeek Early Gender DNA Test 99.99% Accurate
SneakPeek aims to provide the most accurate and up-to-date information to help our readers make informed decisions regarding their health before, during, and after pregnancy. This article was written based upon trusted scientific research studies and/or articles. Credible information sources for this article are cited and hyperlinked.
This post has been reviewed for accuracy by the following medical professional:
Dr. Justin Peterson, MD, OB/GYN
My name is Justin Peterson. I am an Obstetrician and Gynecologist at Coffee Regional Medical Center in Douglas, GA. I received my Bachelor of Science from Mercer University in Macon, GA in Biochemistry and Molecular Biology followed a Doctorate of Medicine from Mercer University. I completed my residency in Obstetrics and Gynecology from Navicent Health in Macon, GA. I offer Sneak Peek to my patients for early gender determining. One of the first Sneak Peak test that was performed in my office was for my son, Jesse.
Related Posts
Follow Us