Published on March 8th, 2018
Part of the fun associated with learning whether your child is a girl or boy is sharing the surprise with others. That's why gender reveal parties have become so popular in recent years. Once you've determined the baby's gender with a gender prediction test, the challenge lies in finding creative ways to reveal the big news to your friends and family, or yourself.
Whether you want to bake a gender reveal cake, or unleash pink and blue smoke bombs, we have an assortment of fun gender reveal ideas that'll make memories for years to come!
Paintball Fun
For those who are the outdoor type, this unique gender reveal idea is one to remember. A paintball gender reveal will get guests stirring – plus mom and dad will get some brownie points for being so creative! For this activity, parents can load a blue or pink paintball into a paintball gun. At the time of the big reveal, all the parents have to do is aim and shoot at a clean, white wall (preferably one outdoors!). Party guests can also get involved–parents can have a paintball gun for each guest or a group of guests (think teams!), and participants can shoot the gun at the same time. Bonus points – aim the paintballs at a canvas to save this DIY gender reveal artwork for years to come!
Paint Fun with Handprints
Ok, so you don't have a paintball gun. There are plenty of ways you can utilize regular paint for a creative and cute gender reveal. Have dad blindly stick his hand into pink or blue colored paint and make handprints on mama's bump (have her wear a white t-shirt). This will make for an adorable keepsake memento too.
Smoke Bomb Reveal
Smoke bombs are not just for pranks—they are a great gender reveal party idea.Showcasing the surprise with a pink or blue-colored cloud of smoke is not only and aww-inspiring visual for partygoers, but it'll make for some stunning and creative photos. Couples can set a colored smoke bomb in a wire basket or fire-safe bowl, set it alight (outdoors, of course), and watch as their colored smoke billows all around them.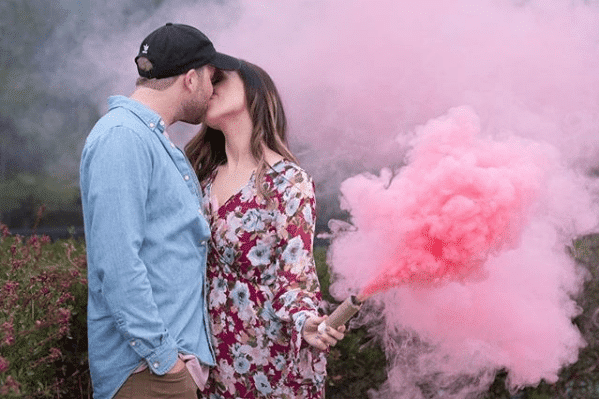 Bath Bomb Reveal
If you want a "bomb" that's a bit more …calm… A colored bath bomb is an excellent idea! There's plenty of online stores that sell bath bombs with the big reveal in mind (i.e. they're neutral on the outside and pink or blue on the inside). This cute gender idea will create a world of color that's easy to clean up afterward!
Balloon Activities
We know a lot of gender reveal party ideas include balloons – but don't count them out just yet. There are plenty of ways to make this super creative. Sure, you can release blue or pink balloons from a cardboard box, but why not step it up a notch? Like filling balloons with colored confetti and popping balloons to reveal the baby's gender. Often, parents will take the gender reveal test results to a party store, provide a worker with the test results, and ask that worker to fill a helium balloon with colored confetti that matches their child's gender. Once home, parents can shoot the balloon with an arrow, or simply pop it with a tack or safety pin. After the balloon pops, the confetti will explode into the air and reveal the child's gender. Better yet, fill up multiple dark-colored balloons – where only one contains either pink confetti or blue confetti. Mom and dad can play darts, popping until they reveal the baby gender!
Gender Reveal Piñata
A gender reveal piñata is a great idea and a unique twist on revealing whether you're having a baby boy or girl. The best part of this creative idea is that you can fill the piñata with anything you would like. Have a designated person fill it with appropriately colored sweet treats or confetti. When it comes time for the big reveal, the couple can take a few swings at the piñata until it breaks open, revealing the gender through the colored filling of the piñata. This idea is also perfect for allowing your guests to participate in revealing the exciting news. Guests can take a turn at bat for a fun, inclusive experience.
Sports Reveal
If mom and dad are big sports fans, this is a perfect opportunity to break out the games. Pick your favorite sport and have an "exploding ball" of color. This works for just about any ball sport – golf, baseball, soccer- you name it. You can find specialty sports balls online made just for this occasion!
Let them Eat Cake!
Every guest will be happy with an activity that includes sweet treats. This is a cute gender reveal idea if you want to keep things engaging, but not as chaotic as balloon popping and pinata smashing. For this idea, bake enough sweet treats for everyone to get their own – think cake pops or cupcakes. Mix either pink or blue food coloring into the batter. Once the baking is complete, cover in a neutral color frosting that completely conceals the food coloring. Give one to each of your guests and let them bite into the cake to unveil the baby gender. Talk about delicious and fun!
Get Holiday Specific
If you want to get even more unique with your reveal, incorporate a holiday theme that corresponds to the time of year you're having your party. If it's close to Christmas, try a tree-lighting reveal! Wrap your tree in a string of pink or blue lights to reveal if it's a boy or a girl. If it's close to fourth of July, launch off some colored fireworks or silly string. Easter? Die the egg yolk for your reveal. Whatever the holiday may be, there are dozens of creative ideas to go alongside it.
Guessing Games
Guessing games and competitions can be a fun way to spruce up any event, especially a gender reveal party. Prior to arriving, the expecting couple can ask guests to come to the party wearing either pink or blue clothing. If guests think the child will be a boy, they can show up in blue clothing. If they think the child will be a girl, they can show up in pink. Once the gender is revealed, the participants who guessed correctly can win a prize! Guessing games can be tailored to fit participants' mutual interests, too. For example, if the parents are sports fans, they can have guests bring a picture of their favorite female or male athlete to the party to represent their guess.
If you don't like any of these ideas, brainstorm and get creative. After all, some of the most unique gender reveal ideas are unconventional. So, thinking outside the box and straying from the traditional 
might score you one of the best gender reveal ideas.
Get a Head Start
In order to reveal your baby's gender, you need to know ahead of time so you can start planning a creative gender reveal party. With SneakPeek's At-Home Early Gender Blood Test, you can identify your baby's gender at up to 8 weeks pregnant, which is faster than most standard gender reveal methods. This way, you'll have  ample time to prepare. To learn more about how this SneakPeek works, including the gender blood test accuracy and ease of use, check out our various publications.
By knowing early if you're having a boy or girl, you can better prepare for the arrival of your bundle of joy. So, get a sneak peek at your baby's gender at 8 weeks, choose one of these unique gender reveal ideas, and celebrate with your friends and family with a reveal of the big news.