Mar 08th, 2018
Part of the fun associated with learning whether your child is a girl or boy is sharing it with others. That's why gender reveal parties have become so popular in recent years. The challenge lies in finding unique ways to reveal your child's gender to loved ones, or yourself.
---
Top 4 Fun and Memorable Gender Reveal Party Ideas
Here are 4 ideas you can use for your party that will provide a memorable experience for years to come.
Paintball Fun
For those who are the outdoor type, a paintball gender reveal can be a fun and exciting activity that all party participants can enjoy. For this activity, parents can load a blue or pink paintball into a paintball gun. At the time of the big reveal, all the parents have to do is aim and shoot at a clean, white wall (preferably one outdoors!). Party guests can also get involved–parents can have a paintball gun for each guest or a group of guests (think teams!), and participants can shoot the gun at the same time.
---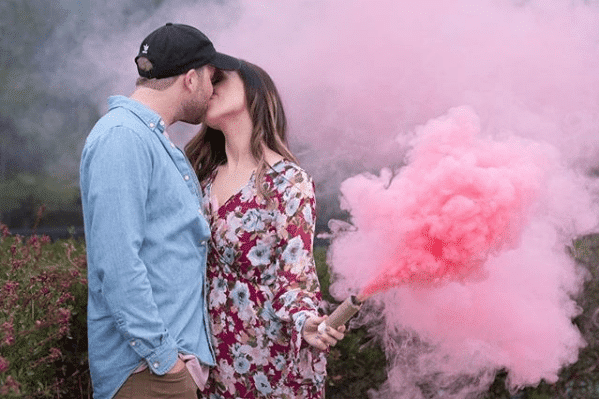 Smoke Bomb Reveal
Smoke bombs are not just for pranks—in fact, one of the most popular (and visually appealing) gender reveal activities involves using them to show a pink or blue-colored cloud of smoke. Couples can set a colored smoke bomb in a wire basket or fire-safe bowl, set it alight (outdoors, of course), and watch as their colored smoke billows all around them. This activity gives couples the perfect photo opportunity!
---
Balloon Activities
A gender reveal balloon activity that has been gaining popularity involves using balloons filled with colored confetti (typically blue or pink) and popping the balloon to reveal the baby's gender. Often, parents will take the gender reveal test results to a party store, provide a worker with the test results, and ask that worker to fill a helium balloon with a colored confetti that matches their child's gender. Once home, parents can shoot the balloon with an arrow, or simply pop it with a tack or safety pin. After the balloon pops, the confetti will explode into the air and reveal the child's gender.
---
Guessing Games
Guessing games and competitions can be a fun way to spruce up any event, especially a gender reveal. Prior to arriving, parents can ask guests to come to the party wearing either pink or blue clothing. Once the gender is revealed, the participants who guessed correctly can win a prize! Guessing games can be tailored to fit participants' mutual interests, too. For example, if the parents are sports fans, they can have guests bring a picture of their favorite female or male athlete to the party to represent their guess.
---
Get a Head Start
With SneakPeek's At-Home Early Gender DNA Reveal testing kit, you can identify your child's gender at up to 8 weeks pregnant, which is faster than most standard gender reveal methods. Learn more about how this test works, including its high level of accuracy and ease of use by visiting SneakPeekTest.com.
---