Published on January 11th, 2018 and Updated on March 18th, 2021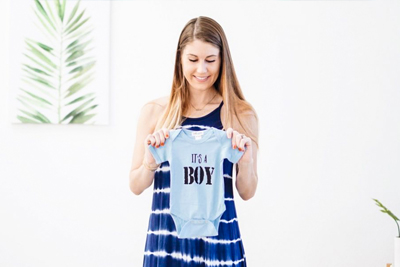 When it comes to finding out about your baby's gender, many expectant parents are divided. While some parents prefer waiting until the birth to discover their child's gender, many new expectant parents find discovering their baby's gender early during pregnancy to be an exciting and fulfilling event that begins the bonding process.
One of the main issues with traditional gender reveal methods, such as testing the amniotic fluid which surrounds your baby, is that they often require long wait times and/or pose serious risks to the developing fetus. The SneakPeek DNA Gender Prediction Test bypasses the limitations associated with traditional gender reveal methods, offering an advanced early at-home baby gender predictor that's not only safe, but also 99% accurate and cost-efficient. So when can you find out the sex of the baby? With Sneakpeek Test, you can learn the gender of your baby as early as 8 weeks into pregnancy.
Current Strategies for Determining Your Child's Gender
The excitement of adding a new baby to your family can often be overshadowed by the curiosity you feel in wanting to know your child's gender. An increasing number of parents are seeking safe, effective options to find out their baby's gender at early gestational age.
The most common gender determination options include:
Elective ultrasound
Non-invasive prenatal tests
Amniotic fluid testing (Amniocentesis)
SneakPeek DNA testing
Below is a quick overview of these methods, with a look at their benefits and potential drawbacks.
Elective Ultrasound
Many of the standard methods for identifying your baby's gender do not allow for early gender prediction. Elective ultrasound, for instance, requires you to wait 18-20 weeks before you can determine your child's gender. Although an ultrasound can provide imaging of the developing baby, it's not the best option for receiving information on your child's gender early on in your pregnancy.
Non-Invasive Prenatal Tests and Amniotic Fluid Testing
Non-invasive prenatal tests are one option some parents choose to determine their baby's gender at 10 weeks of pregnancy. However, this approach is typically restricted to women with high-risk pregnancies. In many instances, non-invasive prenatal tests allow parents to screen for Down Syndrome and other chromosomal disorders, as well as find out the gender of their baby.
Despite its practical clinical utility, non-invasive prenatal tests can be pricey and often require the drawing of blood in a lab. Plus, obtaining results about your baby's gender can take up to 2 weeks, which is hardly convenient if you're wanting to learn your child's gender as soon as possible.
Amniotic fluid tests, also known as Amniocentesis, can also provide information on your baby's gender while giving you further information on the child's risk for chromosomal disorders. Despite this advantage, amniotic fluid tests are typically only performed during the 15-20th week of pregnancy and can increase the risk for preterm labor.1,2
SneakPeek Early Gender DNA Testing
The SneakPeek gender predictor test is the only option that exists for parents seeking a simple-to-use, cost-effective, and accurate at-home gender test.
A study published in the Journal of the American Medical Association in 2011 found that gender reveal can occur in as early as 7 weeks of pregnancy using a simple blood test. The findings from this study demonstrated that tests for determining gender at early pregnancy stages are possible, accurate, and pose minimal risk to your baby.3
SneakPeek is a non-invasive prenatal testing strategy that uses a drop of blood obtained from a quick prick of your finger. Studies support the accuracy of this test strategy for determining gender during the early gestational age. Research shows that you may be able to determine the gender of your baby at just 8 weeks of pregnancy.4 Compared with standard testing strategies that take weeks to identify gender. The SneakPeek testing method can provide results within 72 hours* with the SneakPeek FastTrack option.
To learn more about SneakPeek, including how it works and the science behind it, visit SneakPeekTest.com today.
---
References:
Alfirevic Z, Sundberg K, Brigham S. Amniocentesis and chorionic villus sampling for prenatal diagnosis. Cochrane Database Syst Rev. 2003;(3):CD003252.
Medda E, Donati S, Spinelli A, Di Renzo GC, et al. Genetic amniocentesis: a risk factor for preterm delivery? Eur J Obstet Gynecol Reprod Biol. 2003;110(2):153-158.
Devaney SA, Palomaki GE, Scott JA, Bianchi DW. Noninvasive fetal sex determination using cell-free fetal DNA: a systematic review and meta-analysis. JAMA. 2011;306(6):627-636.
Multicenter blinded study conducted at four ultrasound clinics in 2015. SneakPeek: Data on File.
---
*Turnaround times vary depending on location and are based on postal delivery days. The 72 hours is an average time based on 24 hours to ship to your address (limited exceptions apply / certain regions only have 2 day shipping available); 24 hours to ship back to our facility (provided you return ship your sample before USPS postal cutoff time of 12 pm); and results delivered 8 hours after your sample is checked in.